8 of the best breakfast tacos in Austin
Posted by Isaiah Tibbs on Thursday, October 4, 2018 at 12:22 PM
By Isaiah Tibbs / October 4, 2018
Comment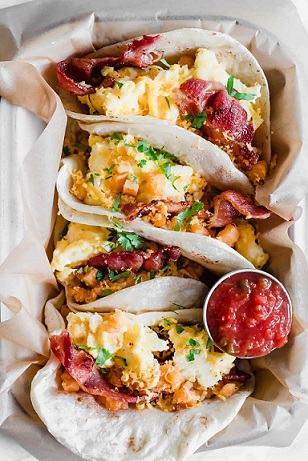 The perfect bite of breakfast taco is one of the simple joys of living life in Austin TX. But there are more places serving them than you could shake an Armadillo at. We cut through the rubbery eggs and soggy bacon for you so you can sit down and munch on one of these gems PDQ. Here's where to go and even what to get:
The Don Juan. This monster taco filled with eggs, potatoes, bacon and cheese barely fits on a plate. Order an extra tortilla or two to eat with all the overflow.
The Migas with avocado. This has made a TON of best of lists, including on Food Network, and you will quickly realize why. Tasty salsas and cooling aguas frescas for those warm Austin days are a real hit to boot!
The taco meat rice and cheese or bean cheese and avocado. These two aren't your usual choices. But Mi Madres puts them into delicious tacos that satisfy when eggs aren't on your mind. Their taco meat is delicious and melts in your mouth, with the right blend of spices.
The bacon, egg, "round potato" and cheese. The round potatoes are pillowy fried goodness and they are masters of crispy bacon! You may need to hit the trail for a jog after this one. Their Migas is a close second and the bean, cheese and bacon is also the stuff of dreams.
The Vaquero. Scrambled eggs, grilled corn, roasted peppers and jack cheese. The grilled corn makes this one awesome. They also have a ton of salsas to choose from.
The ham, egg and cheese. This Westlake favorite has great green sauce as well and is not on most people's radar for breakfast tacos, but their ham is some of the best made and when it's folded into a delicious taco, breakfast nirvana is quickly achieved.
The chorizo, egg and cheese. Optional add on of potato to soak up some of the juicy greasy yumminess from the chorizo. This campy, south Austin stalwart is practically a tourist destination, with music and events regularly as well as an eclectic south Austin vibe.
The Avocado Abogado. With egg, rib eye, avocado and skillet potatoes, this is not your typical taco but it sure is delicious. Tyson's is adding to the vibe of the Airport Blvd corridor where dearly departed Tamale House left off, but with a different flair.
We hope you will try a few of these great tried and true taco places, and if you have ideas or favorites of your own, let us know!